BGO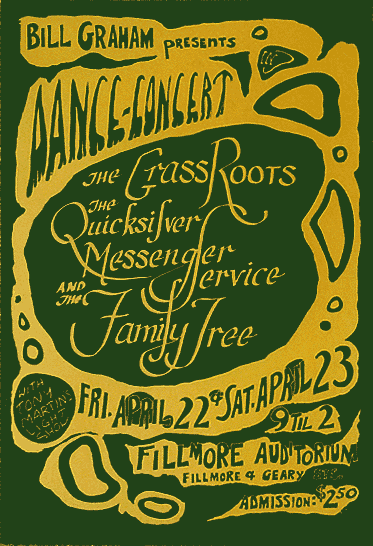 Though this is the fourth poster in the series, because it is the only one of this first bunch that is un-numbered, it is called the "zero" poster and is extremely rare and valuable. This poster was displayed behind glass in our psychedelic shipping room downstairs at the Funky Features house. The room was papered with the colorful wash-up sheets of our colorful posters. Perfect condition.
12-1/2" X 18-1/2" (32cm X 47cm)

I find it curious that these "military" colors were chosen for a "hip" concert...maybe it was a kind of hip, anti-hip sort of thing, huh?
Dave Frieberg played with Quicksilver and was either married to, or living with, a great girl named..."Girl"! Girl became friends with the Funkies and with all of Procol Harum...I think Gary still runs into her at gigs with Ringo's band when they tour the States. Dave's a lovely guy, and they were always a fun band to go see. I think they lived in a commune up in Forest Knolls or Woodacre in Marin (I could probably find out on the web, but I'm too lazy!) where I grew up...great part of the world, and basically unchanged since my dad was a kid and used to go camping in Taylor Park, just beyond Lagunitas, where we had a summer cabin.
For more info on Gary Brooker and Procol Harum, please go to: www.procolharum.com