FOR EARTH BELOW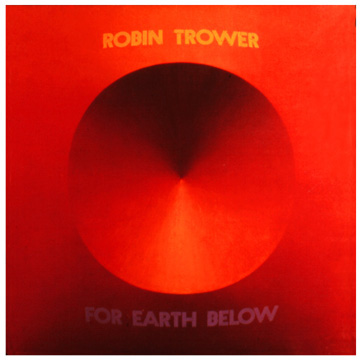 This was a bitch to do. I gave Robin some color roughs done in Caran D'ache crayons, my favorite comp medium at the time, because they were easy to work with and produced saturated colors. It was a doddle to draw this design in crayon, but I gave no thought to how I was going to do the finish. As you can see, I love trying to create dimension when there isn't any there...it's a style I've made my own, and I like doing it...but I didn't like doing this! Ha!

comp for cover
This was done in oils as well, and the outer part of the painting was a piece of cake to do...but the inner circle was very difficult to get right (and I still didn't manage it all that well), especially as the blending got down to the point in the middle. I had to paint this twice because the perfect circle in the middle looked terrible and distorted when I finished it..in order to make it LOOK circular, I had to bow it out towards all four corners slightly...so it has a very subtle lozenge shape you can't see...but the illusion makes it look circular. If you think about it, the circle would have a slight lozenge shape if this was a truly dimensional piece. This was done in 1975 and I was working at a printer's in Notting Hill to make money to move back to America. To get the lettering curved, I took the paper I had put Letraset on, and curved it and taped it to the copyboard of a down-shooter process camera. I had to stop down the lens to f45 to get the depth of field (and just squeaked through)...but it worked fine. Either Robin or Chris Wright has this painting...I think it's 36" square as well.
I was sharing a house at 32 Wroughton Road, Battersea, when this painting was done there (in the dining room!). More than any other, this painting elicited all sorts of comments from people as to what it was. There was a huge billboard of it with the surface of the moon below (it looked really neat) at the corner of Warwick Road and Cromwell Road in Earl's Court, and a friend said his 10 year-old daughter was driving with him when they saw the huge (12 foot square) cover and she remarked, "Look, Dad...Paul's tit!"
So...there you have it. I never thought of it as one thing or the other, but everyone else sure did!

back