LIGHT MY FIRE
(23" X 29" 1966)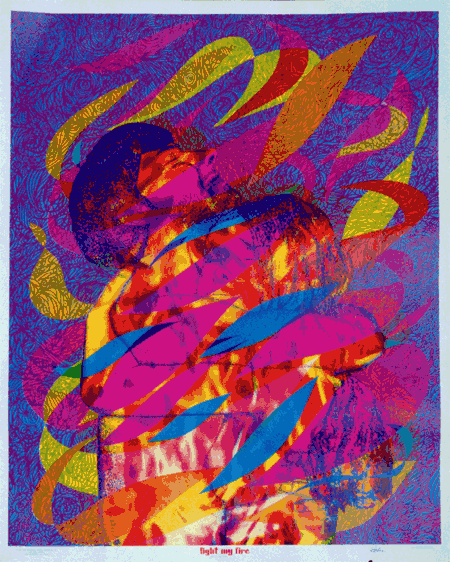 This is the first truly psychedelic poster I created...Sam and Jan were drawn in black India ink on illustration board, the swirling background was drawn with a Speedball pen and India ink on a large sheet of acetate, and the flames were cut out of Rubylith on three separate layers...so this was a three-color mechanical of magenta, cyan, and yellow...no black (just like the Impressionists!).
I wish I could remember the genesis details of this poster, but all I remember is that before Jack, Sam, and I formed Funky Features, some guy up on Ashbury who started the "San Francisco Poster Company," came to me and asked me to do a poster for him (for his first effort). Then somehow Funky Features ended up with it as our first poster (those were really crazy days, y'know?) and we never looked back.
As stated earlier, this image was the most sold image of all time, and may still hold the record (according to Graphis Magazine).

to poster page