TWICE REMOVED FROM YESTERDAY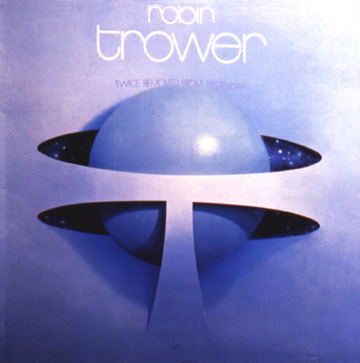 The Funky Features boys met Procol Harum in 1967 on their first tour to promote "Whiter Shade of Pale," and we have all remained fast friends ever since. I moved to England in 1970, and one quiet Sunday morning (when Sundays were Sundays...NOTHING was open after 10 am but the pubs) I was on my way to the newsagents and the dairy around the corner (and opposite the famous Olympic recording studios where the Stones recorded most everything they did and from where "All You Need is Love" was telecast live around the world) when a car pulled up blowing its horn. It was Ronnie Lyons, Procol's old manager, with Robin Trower sitting next to him. "What are YOU doing here!!??" laughed Robin as he beamed in utter surprise at me. They had recognized it was me from the BACK, when the last time they saw me was in San Francisco and had NO idea I had moved to England!
Maybe I really AM funky!
Robin was mixing his first album, "Twice Removed from Yesterday," and we both decided I should do the cover, at which point I dashed home, doodled various thumbnail designs in pencil for two hours and bopped back around the corner and into the control room. Robin looked them over, said, "I like that one," and that was that. I had no idea of color for the design he selected so I asked him his favorite color..."Blue," he smiled.
This is my first oil painting, because acrylics couldn't stay wet long enough to blend, and I had never heard of an airbrush. Painted in a friend's basement studio at 72 Castlenau Road, Barnes, it's 36" square, and belongs to my ex-girlfriend and her husband in England and hangs prominently in their house in Sheen (well...last time I looked!).

This picture of Blind Faith (Rick Grech followed by Ginger Baker, Steve Windwood, and Eric Clapton) was taken EXACTLY one
year before I moved to Barnes and is the view from Olympic Studios down the high street of the village. I lived around the corner
just to the right of Ginger's head in Elm Grove Road, and I was walking in the same direction, but across the street by Rick's right
shoulder when Ronnie and Robin pulled up right where that white car at Ginger's left shoulder is parked.
The Jensen in the foreground is Ginger's, I believe.

back